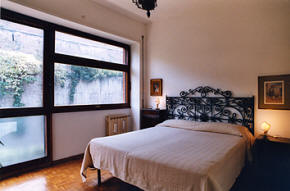 Aureliana offers a superb location just 400 yards from the magnificence of St Peter's square and the Vatican City. Located on the third floor of a gracious modern building surrounded by gardens and trees, overlooking Gianicolo's Park where one can enjoy one of the most beautiful views of the city.
Off the living room is a 6x10 foot terrace with table and chairs where one can enjoy dining next to the palm fronds, that surprise many first-time travelers to Rome. The building overlooks a quiet garden and the walls of Gianicolo, one of the seven hills of Rome. Nearby however, is a lively neighborhood, with shops, a supermarket, boutiques, restaurants and cafes.
Piazza Navona and the historical center are nearby, only 4 bus stops away or half-hour walking distance. The tranquility of Villa Pamphili's Park is also within walking distance.
The house consists of a living room, a master bedroom, a second bedroom with two single (or a double bed, depending on our guest's needs), dining area and kitchenette. There is also a full bathroom with tub/shower, gas stove, electric oven, washing machine, iron, color TV, central heating, 2 electric fans, linens, towels and kitchen utensil for 4 people.