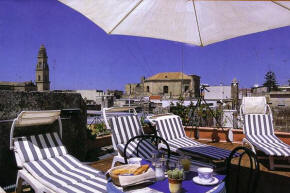 The "Centro Storico" B&B is situated on the second floor of a wonderful building, which was built at the end of 16th century by the "Astore" family, after which it is named. Beacouse of its historical relevance the building is listed and protect by the local Fine Arts Authority since 1994. the herald of "astore" family, inserted at the top of the magnificent main entry arch on the faced of the building represent a hawk holding an olive tree branch with its grips.
Situated right in the heart of Lecce, our B&B is close to everything you might need (rerstaurants, laundry, chernist's, newsagent's, supermakets, etc.), and is surrounded by the most beautiful sghts and monuments in Lecce. the railway stations is only a 10 minutes walk away and the nearest bus stop, connecting Lecce to the most well known seaside resort and sigths is within 150 m.
The "centro Storico" B&B has recently been renovated and offer you every confort. The spacious hall, furnished with precious vintage furniture, is where our guest have breakfast and find interesting informations on local events, sights to see and how to get there.
Sandra e Mauro Bianco, the young B&B owners are happy to take of their custumers' needs and of their queries, advising them on what is best to see and enjoy in the "Baroque town", as well as on the unspoilt salento coast and on the best among the many local characteristic and folcloristic events, and fairs.
RATES

1 night

rates in Euro

with breakfast
Double Room
80
Triple Room
100
Quadruple Room
120
The tariffs are able to be subject to variations
PAYMENT SYSTEM
Payment in counting, with postal money order, bank transfer, bankcard or credit cards (Visa, Mastercard, American Express)
SERVICES

nr rooms: 6

in room
TV
air conditioning
bathroom
minibar
kitchen
in the structure
parking
garden
shuttle service
animlas
near the structure
historical center to 0 m
station to 700 m
shops and monuments to 0 m
banks and post office to 100 m
cover swimming pool to 500 m
golf to 6000 m
language spoken
english
REGULATION

Check - in: 10:00 am